AFRICAN BOLGA MARKET BASKETS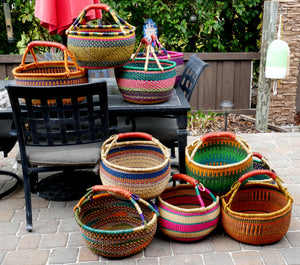 Artisans in Ghana, West Africa weave stunning and durable baskets from the tough and renewable source elephant grass.  A traditional artform of the region, and excellent example of African craftsmanship, Bolga baskets stand up to many years of daily use.  The sales of these baskets have given many of the impoverished artisans a more sustainable way of life.

 
Known for their durability, unique patterns, and vibrant colors, Bolga baskets begin their journey through the harvesting of tall elephant grass from local fields.  Bundled together, the straw is then dipped into boiling water and natural dye.  The weaving begins at the bottom and the pattern is exposed as rows of dyed elephant grass come together in unison.  The handle is then wrapped in a soft leather to make carrying comfortable.  Each basket is different and special from the next and can take weeks to complete from start to finish.  The weavers pass their traditional weaving skills down from generation to generation ensuring their families future stability, healthcare, and education.
When purchasing your new Bolga basket rest comfortable in knowing that we pride ourselves in being a committed member of the Fair Trade Federation.   
SHIPPING - Please Read
All boxes will be shipped via USPS Parcel Post due to the large box size even though your shipping reflects USPS Priority.  Parcal Post will be $12 - $17 depending on where you live.  Priority shipping in a large box can run anywhere from $35 to $45 a box.  If you prefer Priority Shipping please let me know so I can bill for the additional shipping cost.  Thank you!
AFRICAN BOLGA MARKET BASKETS