Eszee Twist Tool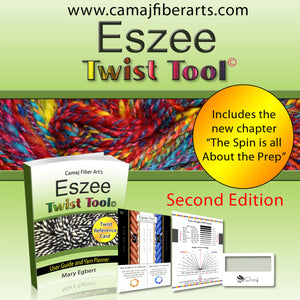 The Eszee Twist Tool© is a new product developed to help spinners make a balanced yarn every time. Not only is it a necessary tool for anyone beginning the craft of hand spinning yarn it is a useful tool for experienced spinners as it provides a handy reference and gauge system that is easily portable and self-contained.
Have you ever spun a yarn with a specific pattern in mind only to find the yarn is not the right wpi for the pattern? Well, the handy dandy yarn thickness gauge will help avoid that issue.
Want to spin a yarn for weaving and not sure how large the angle of twist should be in the yarn? The easy to use angle of twist gauge will help you spin the yarn perfect for your weaving projects.
The kit comes with a thick plastic card that is a multi-function tool that functions as a yarn thickness guide, a WPI gauge, an angle of twist gauge and a guide to determine if the yarn was spun in the S or Z direction.
It also includes a full color 35-page manual and yarn planner, a magnifier that enables better yarn identification and a pretty purple mesh and satin sturdy zipper pouch that not only holds the kit but any other small goodies spinners need to carry like a diz or orifice hook.
The Yarn Planner is a easy to use, step-by-step guide to assist you in spinning perfectly balanced yarns every time.
The Eszee Twist Tool will be quickly become the most indispensable item in any spinning arsenal.
Includes a new chapter The Spin is all About the Prep.
NOTE: No returns on printed goods
Eszee Twist Tool