CUSTOM BLENDING SERVICE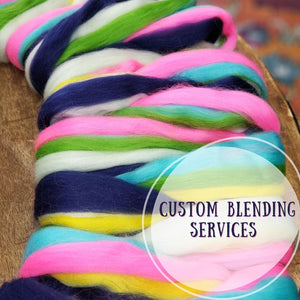 We provide custom blending services to those artists who would like to design their own private blend.  
We can blend nearly any of the fibers or colors we carry in the group pre-order section.
The amount of blending and fiber is customized to exactly what you need.
The minimum for custom blends are 20 pounds.  With a minimum of 2 pounds per colorway.
ORDERS WILL ARRIVE IN ABOUT 6 to 8 weeks.
Please email Mary at info@camajfiberarts.com for pricing and ordering.
CUSTOM BLENDING SERVICE