KANTHA QUILT COLLECTION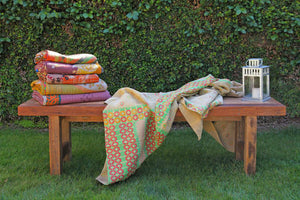 Our unique kantha quilts are made just for us in India by talented artists.
The artists that design these quilts are paid a fair wage and with each purchase, you support a family in India.

Perfect for that impromptu picnic, an excellent beach blanket. awesome table cloth or even make curtains or clothing from your new kantha quilt.
To care for your new quilt, wash in cold water on gentle in your washer with a gentle soap.  Tumble dry  or hang to dry. Do not use bleach or keep out in the sun for extended periods of time ie. days. The colors can fade.
EACH QUILT IS FRESHLY LAUNDERED PRIOR TO SHIPPING
KANTHA QUILT COLLECTION