HOW TO SCOUR WOOL, MOHAIR & ALPACA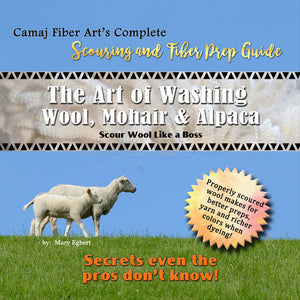 CLICK ON THE PICTURE OF THE BOOK BELOW AND YOU WILL BE TAKEN TO AMAZON TO PURCHASE YOUR KINDLE BOOK.  
All the research and practice has been done for you! All you need to do is follow the authors techniques and wash wool the right time the first time. In this 138 page ebook you will learn how to scour/wash raw sheep, mohair and alpaca wool the correct way. Learn things the mills don't even know.
There are multiple links and videos throughout the ebook.

Learn the secrets of fiber mills and how they scour their wool. 

Learn why pH is so very important to prevent damage. 

Tips for finding good fleeces online.

Learn how your water may be preventing your fiber from getting clean.

How much water should I use?

Learn a safe and easy way to keep moths from getting into your fibers and the correct way to store raw and washed wool.

Learn that soaps CAN ruin your wool and which to avoid.

Learn why your fiber can felt and how to avoid it at all costs. 

Troubleshooting helps you work out issues to ensure you have a better scouring experience.

You will get step by step instructions along with videos to show you how to wash your wool with fiber specific soaps to get excellent outcomes.

Protect your fiber investment and do it right from the start!

Immediate Kindle download on Amazon.
No returns on ebooks.
Scour wool the right way the first time.  Wool is expensive, don't blow it.
HOW TO SCOUR WOOL, MOHAIR & ALPACA